Profile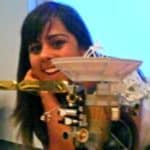 Sheila Kanani
Lockdown is just like being an astronaut!
Curriculum Vitae
Education

Wimbledon High School from 1989 – 2001 (age 7 to age 18)

Qualifications

University of Manchester, 2002 – 2006, Physics with Astrophysics UCL Mullard Space Science Laboratory 2007 - 2012 PhD Planetary Physics Ashton Community Science College 2012-2014 Qualified Teacher Status

Work History

I've had lots of summer jobs, like in a post office and Argos, and lots of scientific summer placements, but because I was studying until 2012 it took a while to have a 'normal' work history. Once I completed my PhD I became a teacher for a few years in a school in Preston, then started working at the RAS in 2014 where I have been ever since.

Current Job

Education, Outreach and Diversity Officer

Employer

Royal Astronomical Society
Favourite thing to do in my job: -Chat about space -See books I've written in the shops -Know I'm making a small difference to the diversity of the space industry

About Me: I am the education, outreach and diversity officer at the Royal Astronomical Society, a published author and an astronomy teacher. I love drinking coke-floats, I'm a planetary physicist, jazz saxophone player, science presenter and hockey-loving space comedian with a research background from UK universities.

Read more

I am a space cadet, with my head high up in the clouds, even though my feet are firmly on planet Earth. I became interested in space and astronomy at the age of 13 and my passion sky-rocketed from there. I have a PhD in planetary science and my favourite planet is Saturn. My favourite "work" interests are teaching GCSE astronomy and giving public talks to audiences of all ages and sizes, while representing my place of work, the Royal Astronomical Society, which I adore. My favourite astronomer is Caroline Herschel.

Outside of astronomy, I loves to play hockey and the saxophone, I enjoy listening to records and dancing like no one is watching with my husband and young son, and I love curling up on the sofa with an excellent book and my six-fingered cat. I live near the sea, and the smell of the ocean makes me feel alive. I'll never get tired of watching sunsets from the north west coast.

My Work: I teach people of all ages about space and astronomy, by talking lots and writing books about space :) Before that I was a researcher using the Cassini spacecraft to learn more about Saturn, its rings and its moons.

Read more

I am the education, outreach and diversity officer at the Royal Astronomical Society. I teach GCSE Astronomy, give public talks, write books, appear on TV now and again and I'm always trying to make the space industry just that little more diverse!

My role is incredibly varied and I essentially wear three hats. The education one involves anything to do with school age children and teachers, the outreach hat includes things like working with diverse groups to inspire and enthuse people to do STEM, astronomy and geophysics, and within the diversity hat I have to think about getting more diverse audiences to engage with STEM, astronomy and geophysics.

The RAS is a membership organisation representing astronomers and geophysicists all over the globe. The offices are based in central London in Burlington House, and in the building you will find one of the best astronomy libraries you have ever seen! The RAS is 200 years old in 2020, and we're looking forward to the next 200 years!

My Typical Day: I teach subjects like GCSE Astronomy, I give public lectures and talks, I talk to the government about what science is taught in schools, I visit schools and groups, I write public information leaflets and webpages… the list goes on!

Read more

In one week, for example, I might teach GCSE Astronomy students, train primary school teachers about space concepts, appear on Sky News talking about aliens, write a safeguarding policy and attend a conference about how to support LGBT+ astronomers. I'm lucky that every day of my job is different so I never get bored! I also really enjoy taking press and media enquiries about current events in astronomy and have been on TV and radio news. Each day is so different and I love my job!

Although the office is based in London, I live in Lancashire, so I work from home. This means that I have a home office and I do a lot of meetings online. I also visit schools and groups in Lancashire, which means I spend a bit of time driving around in my car. I'm always happy to get back home, and when I can see the Blackpool Tower from the motorway I know I'm almost back!
My Interview

How would you describe yourself in 3 words?

I love Saturn!

What or who inspired you to follow your career?

The film Apollo 13

What was your favourite subject at school?

Science

What did you want to be after you left school?

An astronaut…..and I still do!

Were you ever in trouble at school?

I tried to be, but I was a bit of a goody-two-shoes ;p

If you weren't doing this job, what would you choose instead?

Astronaut

Who is your favourite singer or band?

Heavyball

What's your favourite food?

Curry

What is the most fun thing you've done?

Going to Space Camp in the USA! We got to fly a (mock) shuttle and wear flight suits and scuba dive. It was awesome!

If you had 3 wishes for yourself what would they be? - be honest!

I'd like to walk on the Moon, or Mars. I'd like to visit Saturn to see what I worked on for my PhD. I'd like to discover aliens and win the Nobel Prize for Physics in doing so!

Tell us a joke.

How do you know that Saturn has been married more than once? Because she has lots of rings.
My profile link:
https://ias.im/u.6905